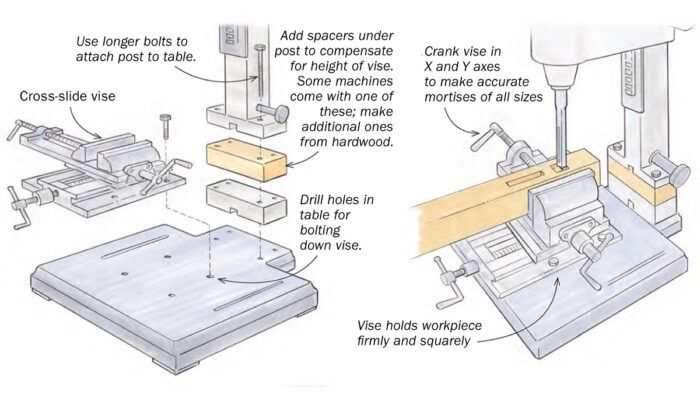 I've been pissed off by means of the present fence and hold-down device on my hollow-chisel mortising system. It really works, however continuously forces me to upload clamps to stay the workpiece strong. And the clamps have to be untightened and repositioned after each and every sq. hollow I lower. Additionally, I've to reposition the fence to create mortises which are wider than my biggest bit.
I solved those issues as soon as and for all by means of including a machinist's cross-slide vise to the mortiser. The vise holds workpieces firmly and appropriately, and will also be moved within the X and Y instructions by means of turning two massive handles.
First I got rid of the usual fence and hold-down on my mortiser. Then I drilled holes within the solid iron desk, and bolted down the brand new vise so it was once underneath the mortising bit and sq. to the mortiser's desk.
The vise steals 5 in. of plunge capability from the mortiser, however I added maximum of that again by means of striking spacers below the submit. One is forged iron, which got here with the system as an adjunct, and the opposite is a 1-3/4-in.- thick, shopmade maple block. For those who lack the accent spacer, you'll merely make a thicker hardwood block. Both means, you'll want longer bolts for attaching the submit to the bottom.
The cross-slide vise is a easy repair for a irritating downside. Now I will create best mortises of all sizes, in a long way much less time than prior to, and I glance ahead to the method.
—MICHAEL CHAPMAN, Stilwell, Kan.
Illustrations by means of Dan Thornton
From Tremendous Woodworking factor #301
Join eletters as of late and get the newest ways and how-to from Tremendous Woodworking, plus particular gives.